The last time sportfishers got a chance to target Sockeye in Lake Washington was 2006. That year, a return of over 400,000 adults produced an enormously popular fishery and was responsible for a huge boost to the local economy. Alas, in the eleven years since then, even with the addition of a Sockeye hatchery on the Cedar River (2011) , there has not been a return close to what we saw in '06… Here's the historical chart, with the current year shown in red: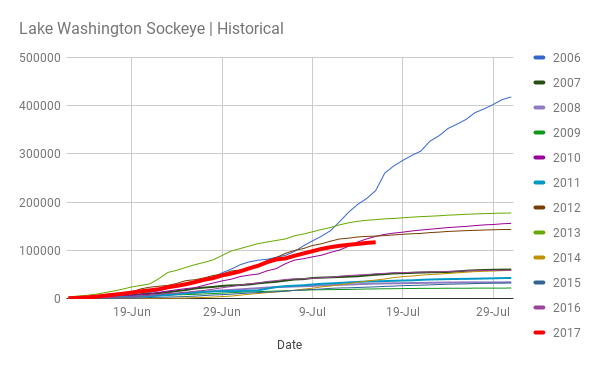 We'll leave the legitimate question of why we're not seeing stronger returns for another day (cleaner/clearer lake, predation, blob, etc). Today's question instead is instead why there has been annual Tribal ceremonial & subsistence Sockeye fishing, but zero opportunity for sportfishing?
The Last Decade
Every year since 2016, coming out of North of Falcon there has been an established threshold of 350,000 fish that must be reached before a recreational fishery will be considered. On the other hand, Tribal ceremonial & subsistence fisheries have happened 10 of the 11 years, without regard for this 350,000 escapement number.
Let's take last year (2016) as an example: A very modest run of 52,000 fish returned, yet Tribal fisheries were conducted at the locks, with an allocation of 3000 fish, or 5.75% of the total return. This pattern has repeated itself over the last decade, with the Tribes taking between 2% and 6% of the run in their ceremonial & subsistence fishing each year. Here's the historical fisheries targeting Lake Washington Sockeye the last 11 years:
Year
Suquamish
Muckleshoot
Target

2017

2500

1000

3500

2016

2000

1000

3000

2015

500

0

500

2014

0

1000

1000

2013

2600

1500

4100

2012

2000

2000

4000

2011

1500

0

1500

2010

1800

750

2550

2009

0

0

0

2008

1500

750

2250

2007

1500

1000

2500

Total
24,900
So looking back over the last decade, Tribal fishermen have accumulated a significant imbalance in harvest allocation…
So why are the tribes allowed to fish? First, as Lake Washington Sockeye are an introduced run–thus not presenting any listed/endangered species, there's no real conservation reason why small fisheries can't be conducted. Second, there seems to be a willingness to look the other way on Ceremonial and Subsistence fisheries. And while no one fishery has taken an overwhelming number of fish in any one year, the imbalance accumulation over a decade has been significant.
Additionally, the numbers above only include the C&S fisheries themselves. That means they don't include any 'Test' fisheries (230 more fish this year). And on years when the Tribes deploy gillnets targeting Coho in in the Ship Canal, and more importantly Muckleshoot Tribe nets in Lake Washington, the Sockeye staging there are harvested as bycatch. We'd have to add all those Sockeye to the ones taken in specifically directed fisheries above to reach the real total imbalance.
Bottom line, the state/recreational fishermen are experiencing a dramatic imbalance on this run over the last 11 years — roughly 25,000 vs. 0. And we believe this is the year to correct the imbalance.
The Counter Arguments
2017's run appears to be headed for close to 150,000 adult returners–which is about as good as anything we've seen in a decade. Looking forward, the outlook for 2018 and 2019, based on outmigrating smolt counts, are likely much worse. So if one was looking for an opportunity to provide an imbalance-correcting recreational fishery anytime soon, this is the year to do it. Anyone who makes this argument will encounter a series of usual arguments, let's take them on.
The Fishery Doesn't Open Until 350K We have informally surveyed fisheries biologists and can find zero scientific support for the current 350K number. In our view, this is an artificially introduced run, supported by a hatchery, and while that wouldn't justify unlimited fishing, this year's return deserves a look. Remember, last year the Tribes opened a C&S fishery for 3000 fish, against a 50,000 returner count. A similarly impactful sports fishery this year would target 9000 fish against 150,000 returners. This will still leave the state fishers well behind on the imbalance, but it's a start.
It's Too Difficult to Make This Adjustment Post North-of-Falcon While we understand it's never easy to make revisions to seasons–that's not a good enough excuse–especially when it's happening elsewhere. In fact, about 10 days ago we highlighted a story about the Humptulips heading Mark/Selective for sportfishing this season — where the State and Tribes worked out a revision post NOF. Even more, that Humptulips revision was agreed upon to correct an imbalance in allocation that favored the state. The Tribes raised a valid concern, and the State compromised from their NOF position. Here we have the reverse — where the Tribes are being asked to compromise and suddenly it's too difficult? Clearly the State has demonstrated a willingness to be a co-manager. Will the Tribes?
Ceremonial & Subsistence Trumps Sportfishing We disagree with this assertion. We hold a great deal of respect for Ceremonial & Subsistence fishing. We view C&S fisheries on par with Sportfishing as the highest and best uses of our shared natural resources. After a decade of (near) annual C&S fisheries, it's time for the Tribes to acknowledge the importance of Sportfishing and agree to allow the State to open this fishery.
What Happens Now
We see two paths forward… The first is that the Co-Managers get together and agree this is a great opportunity to close some of the historical gap between Tribal and State allocation on this run. We're hopeful that these discussions progress and this develops.
Failing that, we think future C&S fisheries — 2018 and beyond — should be suspended until the historical imbalance is corrected on this run. There should be no excuse for the continued harvest by one party and the exclusion of the other.