Many recreational fishing groups have raised concerns about the alarming 10-year Puget Sound Chinook Harvest Management Plan (PSCHMP) recently submitted to NOAA for approval. This plan was negotiated between WDFW and the Tribes absent any public comment, input, or explanation of how it is expected to impact Puget Sound fishing seasons. In fact the plan was negotiated & submitted for approval without the knowledge of the Fish and Wildlife commissioners — truly a remarkable situation.
Make no mistake, the plan as written appears to significantly disrupt and seems likely to eliminate a great number of the recreational Puget Sound salmon fisheries for the next decade. Puget Sound mark/selective Chinook fisheries in Areas 5, 6, 7, 8 and 9 will likely all close throughout this 10 year period, eliminating hundreds of thousands of angler trips per year and sinking countless local businesses.
Now, if this management action was both necessary and grounded in strong fisheries biological science, such a drastic action could be understood, if not supported. Unfortunately, key parts of this plan ignore fundamental salmon/river ecosystem realities. Rather than foster recovery, the proposed plan will further delay the actual hard decision making and work the fish need.
For this article, we'll examine this Harvest Plan and how it proposes managing Stillaguamish Chinook — likely the most constraining run of fish in Puget Sound. For the foreseeable future the PSCHMP threatens all in-state fishing which impacts this run of fish — and we'll show that even those drastic changes won't make one bit of difference to the recovery of this run.
We know what you're saying: "Of course recreational fishermen don't think cuts to fishing will help the fish recover!!". We live in a world full of fake news, and where nobody wants to believe they are the cause of the problems we face collectively. But we encourage skeptics to read on and study the science here–we think after reading this you'll agree that changes are required, and they're absolutely not the ones being proposed.
Background | Stillaguamish Chinook
The Stillaguamish River Chinook population (combining North and South Fork for simplicity) is a blend of naturally spawning fish sharing the river with a population of Chinook reared at the Tribal broodstock hatchery. Each year the hatchery mixes 50% of its spawning stock from returning hatchery marked fish and 50% native spawners. The resulting mix of hatchery and wild fish are considered biologically identical stocks — with the hatchery affording some measure of protection against extinction of the run should some catastrophic event occur.
Historically the Stillaguamish River saw returns of up to 50,000 Chinook. Unfortunately, development has severely degraded the river system, and the last ~30 years the Stillaguamish River has typically seen about 1,500 returning fish. Strong years ('91, '02, '08) saw this number top 2,000 while low years the numbers flirt with 1,000. In the two most recent years we've reviewed data for ('14, '15) these numbers have dipped to the mid-800's.
By way of analogy–think of the Stillaguamish historical abundance as a full 5-gallon bucket of water. The full bucket is the 50,000 returning fish days. What we have now is a 5-gallon bucket, with just a pint of water inside. This is a serious situation and fisheries managers are absolutely right to be focusing here. We all want to see that bucket full again and would support management actions which would take us in this direction. But before we get there, some background..
Background | Fisheries Biology
Every pair of spawning salmon delivers thousands of fertilized eggs to the gravel. Each of those eggs hopes to survive the first year in the river, followed by 2-3 at sea, and to then return to restart the process. In a typical system perhaps only 10% of these Chinook eggs will survive their first year and produce a smolt that migrates to the salt-water. Those survivors must then navigate the open ocean for 3 years — and in the end only a handful of those thousand eggs will return to spawn again. This is the cycle.
This biological lottery game — where 90% of the eggs fail to survive the first year in the river — is incredibly important because it makes salmon populations redundant and resilient. It's this 90% excess that provides a path to recover populations where some event disrupts the cycle (flood year, low water year, migration blockage). This ability for salmon to rebuild populations is widely documented: When a disruption significantly reduces the numbers of spawning salmon in a river, we in turn observe dramatically higher percentages of their eggs will mature and migrate out to the ocean. Instead of 10% surviving the first year, we might see 20%. And instead of a handful of those eggs returning to spawn, we might see 10, or even 20 'recruits' return from that spawning pair.
This isn't a magic trick, the survival rates go up in down years because the fry have plenty of good habitat to take shelter in, and plenty of nutrients to consume. (In more "normal" years, there's much more competition for these resources so survival rates are lower.) This ability for 2 salmon to produce 20 is the underlying mechanism that makes it possible for salmon to repopulate and recolonize runs. It's what gives salmon their ability to adapt to change–they do it well and have done so for thousands of years.
Is Fishing the Problem?
Going back to our 5-gallon bucket analogy again, think about the scarce "pint" of salmon we have returning to the Stillaguamish. Even that small number of fish should be able to rebuild the population by themselves if we just leave them alone. Give them a few generations without any fishing, and voila, full buckets of fish will return. In fact, fisheries co-managers have diligently taken dramatic steps to curtail Stillaguamish fishery impacts for years, and the recovery results have been surprisingly dismal. Let's look at the numbers and try to figure out what's going on…
In 1982 the Stillaguamish Tribe ended their Chinook fisheries in the River. Two years later the Tulalip Tribe ended their directed Chinook fisheries in the saltwater adjacent to the River. Non-tribal fisheries including recreational Chinook fishing in the river was also ended in the mid-80's. Then, in 2003 all saltwater recreational fisheries in Puget Sound converted to mark-selective fisheries requiring anglers to release any fish without the distinct hatchery fin-clip. The combination of all these changes has reduced the impact of fisheries to small fractions of what they once were, yet the populations aren't rebounding. Here's a look at the chart (lifted from the actual harvest management plan submitted to NOAA by WDFW & the Tribes). Orange data points show the total escapement, and the flat-orange dotted line the "trend" — which you can see is virtually flat across three decades: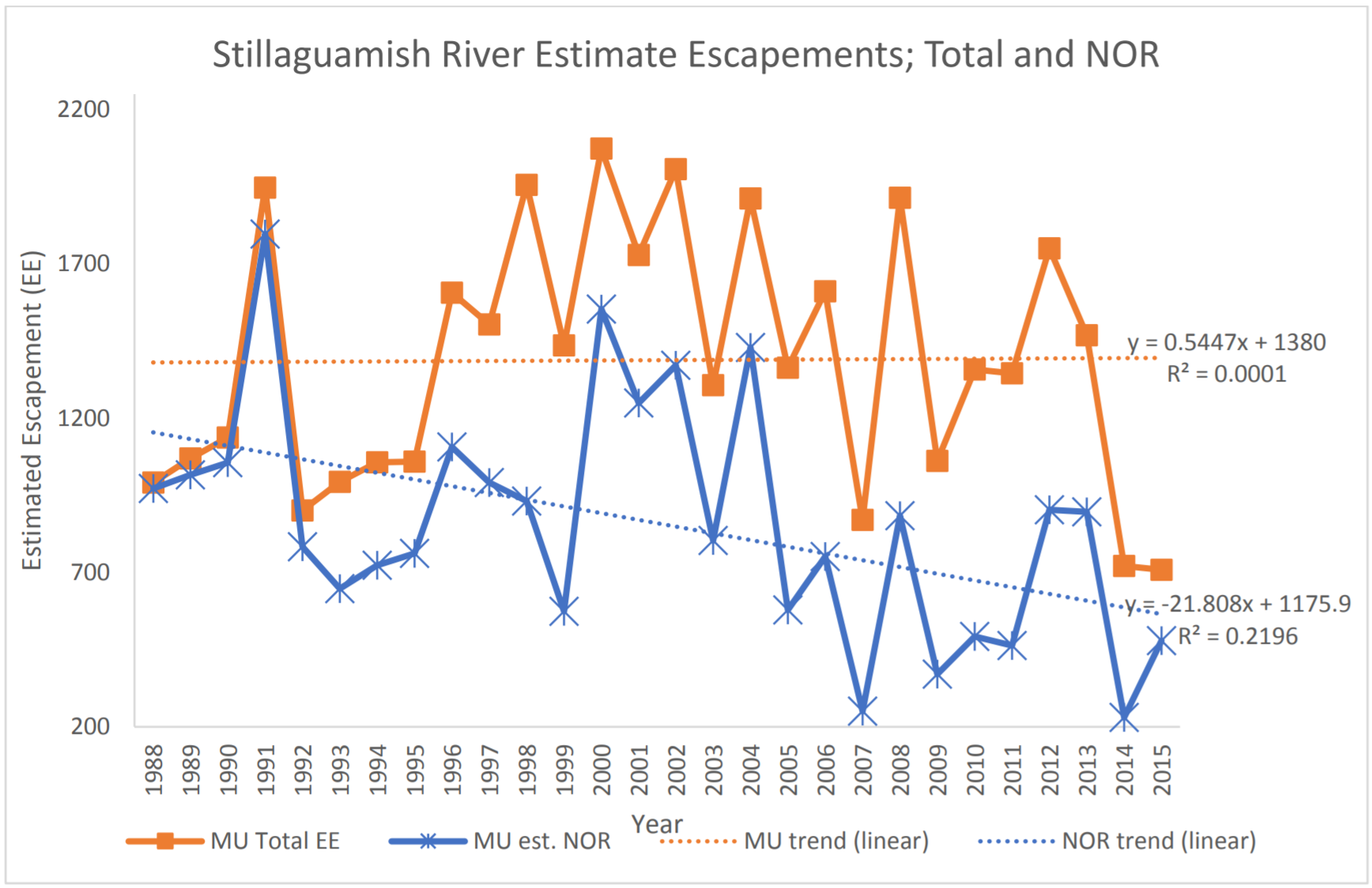 Here's another way to think about this — consider the last 30 years as an experiment in recovering the Stillaguamish Chinook run. That experiment has shown that cuts to the fisheries have not produced any recovery of the run. Given the remarkable ability of salmon to recover their populations given the chance — these decades of cuts in fisheries should have yielded significant effects on the population, but there's not a single sign that this is happening. Clearly something is indeed limiting this population — it's just not fishing.
Yet the proposed plan advances the same agenda — further fishing cuts — a strategy that has been tried and has failed since the 80's. And consider this: the thoughtful design of recent seasons has carefully avoided impacting these Stillaguamish Chinook. So even though the PSCHMP will likely close huge swaths of Puget Sound to fishing, it will save surprisingly few Stillaguamish salmon, perhaps a dozen fish. If managing harvests down by thousands of fish hasn't lead to corresponding recovery — we see not a single bit of supporting evidence that the proposed changes to save an additional dozen are in any way warranted.
Conclusion #1: Shutting down the remaining/carefully managed fisheries will not help salmon recovery on the Stillaguamish. Anyone who believes this is ignoring the considerable evidence of the last 30 years where far more significant cuts were made without any corresponding recovery.
We know, we know. Lots of you still don't believe us.. Well, read on…
Where's The Cycle Broken?
We've just observed that changes in fishing over a considerable period of time hasn't recovered the Stillaguamish River Chinook. Clearly something is impeding this recovery, so let's take a look at the headwaters of the river and the beginning of the lifecycle.
As mentioned earlier in the background, a healthy ecosystem might see 10% of the eggs laid by spawners survive produce smolts that migrate to the saltwater (biologists call this the Egg-to-Migrant survival rate). We're fortunate to have the data on how the Stillaguamish is doing in this regard, again courtesy the very Harvest Management Plan that WDFW and the Tribes submitted to NOAA. Below you'll see the first glimpse at the real problem — eggs laid in the gravel in the Stillaguamish have a terribly difficult time developing into a fish that successfully migrates to the ocean. Averaging about 5%, and in some years as low 2% or even 1%–and strongly correlating with the highest river flow during the critical fall/winter period. (e.g. floods are bad for eggs/juveniles).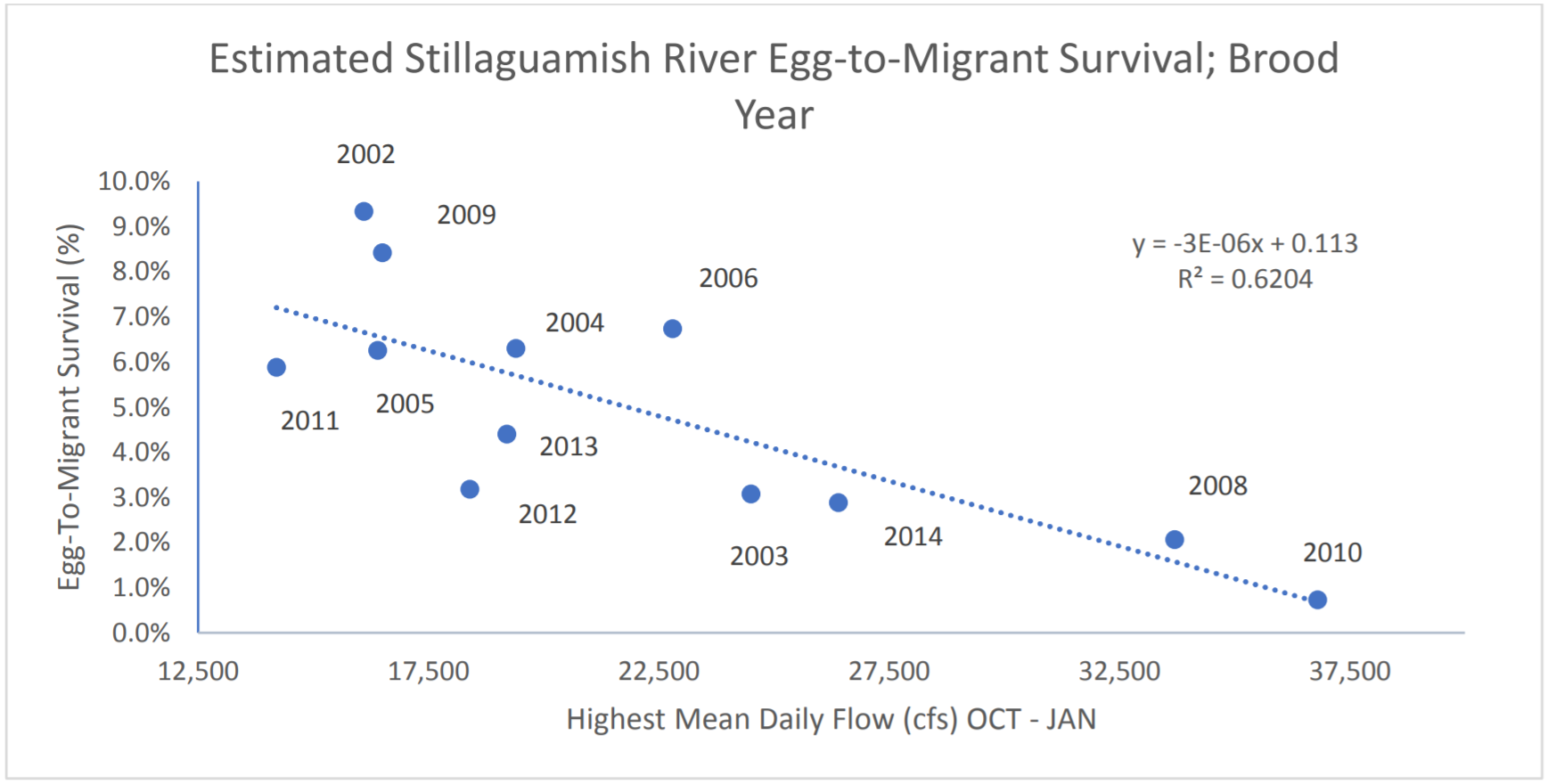 Even for good years ('02 and '09), this poor survival record of juvenile salmon within the Stillaguamish has totally eliminated the ability of this population to rebuild itself. Remember that when runs are rebuilding themselves, we expect to see egg-to-migrant rates above 10%, and there's not one single example in the last 15 years of that happening. For these runs to recover, the egg-to-migrant survival rates will need to increase. If this doesn't change there simply is nothing we can do to recover the run to anywhere near its former numbers.1
Conclusion #2 — If Stillaguamish juvenile Chinook cannot survive and successfully migrate to the ocean, the run cannot recover and rebuild itself. Previous fisheries management cuts haven't solved this, and the further proposed cuts in the PSCHMP won't solve it either–because they're not fixing the actual problem.
What's limiting these numbers? Why can't the run rebuild itself? Glad you asked…
Drops (and Cracks) in the Bucket
There are a myriad of differences between the Stillaguamish today and the Stillaguamish watershed historically. A detailed discussion of the individual habitat issues is outside the scope of this article, but includes increasingly impervious surfaces, exempt wells, impassible culverts, lost riparian areas, and a myriad of repercussions from logging activities.
It is the combination of these habitat issues that — from the point of view of returning salmon — prevent them from rebuilding this run. The salmon haven't forgotten or somehow lost the ability to do this–it's that there are not enough suitable places for them to lay eggs and for juveniles to rear. It may be hard to grasp this because the river mostly "looks" the same to us — but to salmon it's really not at all like what it was when there were 50,000 fish coming back. In fact our back-of-the envelope math suggest that the current habitat can carry about 940 spawners, or 98% degraded from historical highs.
How can we get our head around 98% degraded? Well, remember back to that 5-gallon bucket again–and how our current returns are like a single pint of water in that 5-gallon bucket? Well the reality is that the bucket isn't a shiny new bucket holding a pint of water, it's a beat up nasty bucket with a big crack down the side that goes almost all the way to the bottom. You can pour all the water you want in it–but you'll only end up with a pint of water in the end. Unless and until we repair the bucket, the habitat, we're never going to see those numbers again.
The terrible habitat, the cracked bucket, that's why the juvenile salmon aren't able to survive their year in the river, and to migrate to the open ocean. This is exactly why we're seeing such low percentages of eggs actually migrate out to the ocean. Unless and until we fix the habitat (bucket) the run can't rebuild itself.
30 years of cuts to fishing that hasn't lead to recovery?? Those management decisions are exactly like dumping some extra water in that cracked bucket. Unless you're already below the "carrying capacity" of the river (or the bucket) then fisheries management cannot and will never recover the salmon–not even a little. Yet the new PSCHMP proposes dramatically impactful cuts — all in the errant belief that somehow, this time, it'll make a difference.
We have to fix the cracked bucket. We have to repair the river habitat if you want more fish to return. After 30 years of claims we will get more out if we ignore the crack and just keep dumping more water into the cracked bucket need to wake up. The Stillaguamish is presently a habitat problem, it is not (remotely) a fishing problem.2
Conclusion #3: The Stillaguamish system will never exceed its current levels of escapement until the habitat is repaired. Salmon themselves are the only ones who can rebuild this run and unless/until they have sufficient good habitat to do this things won't change.
Closing Thoughts
We've made it through this whole article without getting too far into any sideshow or secondary issues. But the wide-ranging impacts of this mistaken management decision should not be underestimated. First reiterating the three conclusions:
Shutting down the remaining/carefully managed fisheries will not help salmon recovery on the Stillaguamish.
If Stillaguamish juvenile Chinook cannot survive and successfully migrate to the ocean, the run cannot recover and rebuild itself.
The Stillaguamish system will never exceed its current levels of escapement until the habitat is repaired.
Our take is that the co-managers should rescind their planned Stillaguamish changes, and instead insist–correctly–that as co-managers they have done a remarkable job designing their fisheries to not impact Stillaguamish salmon recovery. Stillaguamish Chinook recovery is not presently a fisheries problem. We need to stop pretending otherwise. If we continue on the current path we risk three important secondary problems…
First, we believe the PSCHMP is actually worse for fish than the status quo. It's worse because it allows — for another 10 years — the continued narrative that further curtailing fishing will lead to recovery on this river. This is the moment to stop that nonsense. The Stillaguamish fisheries are very conservatively/sensibly managed and it's essential the State, Tribes, and Recreationals all speak this truth with the same voice. We must educate politicians and conservation groups. We must change the narrative and we must change it right away.
Second, the closure of a wide swath of Puget Sound to salmon angling seems likely to deliver to a negative spiral for recovery and WDFW itself. If we emerge year-after-year from North of Falcon with no Area 5/6//7/8/9 Chinook fisheries — we anticipate a direct/dramatic economic impact (~400,000 angler trips trips/year at ~80/day is $32M out of the local economy). We'll also certainly see a significant license revenue drop for the department — which will in turn lead to less research and management available for fisheries and recovery issues. And the combination of all this is a feedback loop that sprials downwards — with the fish the most likely victims again.
Finally we believe the current plan advances the false equivalence of "let's do both" — let's cut fishing and do habitat work. This kind of "why not do both??" sure sounds compelling. The answer is we have already cut fishing, and lots of it — without creating recovery. Filling the cracked bucket with more water isn't helping here. Our view is the correct strategy is instead to marshall those user groups — they are the advocates we need at town halls, in Olympia, at conservation meetings, and donating time to habitat restoration on this very river. If we eliminate recreational fishing — we actually end up losing the most engaged and enthusiastic resource we have — which is the tens of thousands of license buyers.
In closing, we would remind our readers that had a normal, transparent process been followed in developing this plan — these sorts of issues would have inevitably have been surfaced and discussed prior to submission to NOAA. There would have been learned testimony and perhaps this could all have been avoided. Beyond a management failure, this PSCHMP is a process failure–and the separate process problems need to be discussed as well — but that's for another day.
We Need You, and You Again
If you've read this far, you realize both how serious this situation is — and that doing nothing is likely going to lead to a seismic shift in Puget Sound fisheries. And as we've seen, none of the management changes will make a bit of difference to recovery of the Stillaguamish Chinook population. This isn't just a call to action — it's a call to multiple actions… This is too dire not to take two steps…
First, take a moment and give a donation today to a team of folks making a difference on the Stillaguamish river. They are some of the hardworking people working to fix the real, underlying issues on this (and other) rivers. They'll use this money to write grants to in turn help restore the river habitat — which is the only path to recovery… While even $5 is great — we'd love to hear about people stepping up and really helping this team out!

Second, take 5 minutes and write the WDFW Commission. We've provided a form you can use but we strongly encourage you to revise or rewrite this to suit your own feelings. Make your own argument and tell your story!!
Puget Sound Stillaguamish Plan
This petition is now closed.
End date: Jan 31, 2018
Signatures collected: 358
Footnotes
With these low river survival rates it's additionally clear how vulnerable this population is to any systemic disruptions or weather events. This showcases the important insurance that the Tribal hatchery provides should some catastrophic river event occur. That catastrophe is not at all hard to imagine a river system which absorbed the devastating Oso landslide in March 2014.